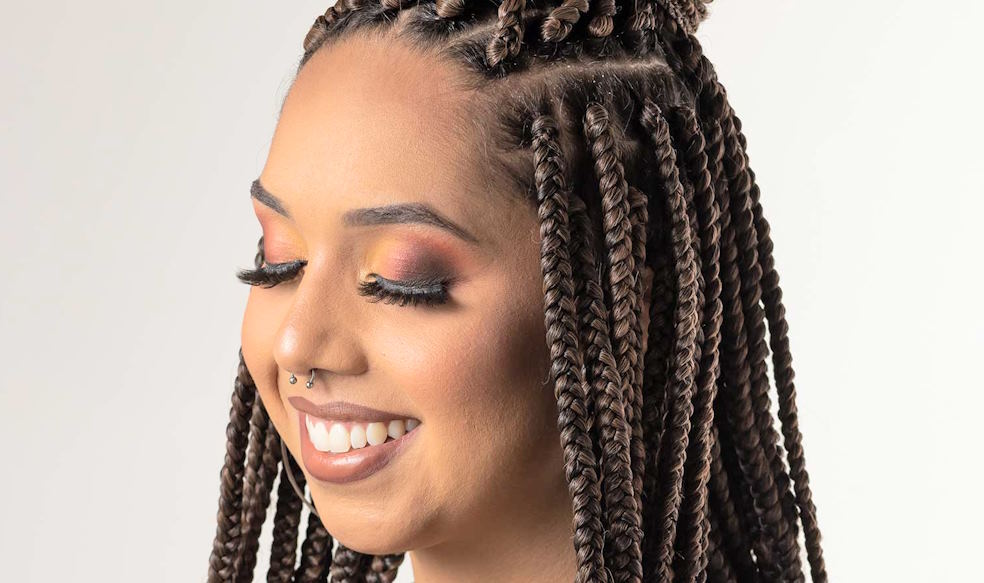 Knotless Braids vs. Traditional Box Braids: Pros and Cons
Braided hairstyles have witnessed a remarkable resurgence in recent years, capturing the hearts and heads of individuals seeking a fusion of fashion, convenience, and cultural expression. Among the many braid styles, knotless braids and traditional box braids have emerged as two prominent contenders, each with its unique attributes and appeal.
Knotless Braids: Effortless Elegance for Your Tresses
Pros
Less Tension and Stress on the Scalp: One of the primary advantages of knotless braids hairstyles is the reduced tension and stress they place on your scalp. The absence of tight knots at the roots minimizes the risk of scalp discomfort or damage, making them a more comfortable and healthier option for your hair.
Natural-Looking and Lightweight: Knotless Braids mimic the appearance of naturally grown hair, making them an excellent choice for those who prefer a more understated, authentic look. Additionally, their lightweight nature means you can wear them for extended periods without feeling weighed down.
Easier to Manage and Style: These braids offer greater flexibility when it comes to styling. Whether you're into updos, ponytails, or letting them cascade freely, Knotless Braids are remarkably versatile and easy to manage, allowing you to express your unique style effortlessly.
Cons
Time-Consuming Installation Process: Knotless Braids, although visually appealing, can be time-consuming to install. The meticulous process of braiding without knots requires patience, so be prepared to invest some time at the salon.
May Cost More Due to Extended Time Required: Since Knotless Braids demand a more intricate installation process, they may come with a higher price tag compared to traditional box braids. Consider your budget when choosing this style.
May Not Last as Long as Traditional Box Braids: While Knotless Braids are undoubtedly stylish and comfortable, they may not have the same longevity as traditional box braids. Depending on your hair type and maintenance routine, you may need more frequent touch-ups to keep them looking their best.
Traditional Box Braids: Timeless Elegance and Endurance
Pros
Long-Lasting and Durable: One of the standout advantages of Traditional Box Braids is their durability. When well-maintained, they can last for several weeks or even months, allowing you to enjoy your braided style without the constant need for touch-ups.
Versatile Styling Options: Traditional Box Braids offer a myriad of styling options. From intricate updos to simple ponytails, you have the freedom to experiment with various looks and express your creativity without constraints.
Often More Cost-Effective: In terms of cost, Traditional Box Braids can be a more budget-friendly choice. Since they last longer and require less frequent maintenance compared to other braiding styles, they can be a more economical investment over time.
Cons
Can Be Heavy and Cause Tension on the Scalp: The tightness of Traditional Box Braids, especially during the initial installation, can be heavy on the scalp. This tension can lead to discomfort, making them less suitable for those with sensitive scalps.
Initial Tightness May Cause Discomfort: The tightness of the braids during the initial stages can cause discomfort and even headaches for some individuals. It's essential to communicate with your stylist to ensure a comfortable level of tension.
May Take Longer to Install: Traditional Box Braids are known for their intricate and time-consuming installation process. Be prepared to spend several hours at the salon, depending on the length and thickness of your hair. Patience is key when opting for this classic style.
Factors to Consider When Choosing Between Knotless Braids and Traditional Box Braids
When deciding between Knotless Braids and Traditional Box Braids, several key factors come into play. Your unique hair type, styling preferences, budget, and desired duration of wear all contribute to making the right choice for your individual needs. Let's explore these factors in more detail.
Hair Type and Texture: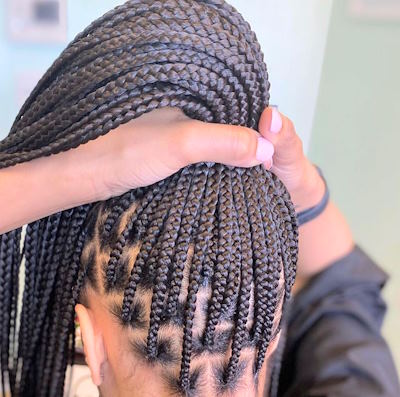 The nature of your hair is a pivotal factor when selecting between these two braid styles. Knotless Braids are generally gentler on the scalp and work well with various hair types, especially if you have fine or sensitive hair. In contrast, Traditional Box Braids can be more suitable for those with thicker, coarser hair. Consider your hair's thickness and sensitivity when choosing the braid style that will best accommodate your specific needs.
Styling Preferences:
Your personal style and the looks you wish to achieve are essential considerations. Knotless Braids provide a more natural, lightweight appearance, making them an excellent choice if you prefer an understated, versatile style. On the other hand, if you desire a classic, neatly braided look, Traditional Box Braids may be your ideal choice. Think about your preferred styling options and the versatility you desire.
Budget and Time Constraints:
Your budget and schedule also play a significant role in your decision. Knotless Braids tend to require more time for installation due to their knotless technique, potentially resulting in a higher cost. Traditional Box Braids, while initially time-consuming to install, may prove more cost-effective in the long run due to their durability. Consider your financial situation and availability when making your choice.